Click the arrows to see more installation pictures.
Vehicle: 1996 Ford Explorer
Owner: Benjamin Barch
Power:
RMS: 1,060watts
Peak: 2,120watts
Speakers:
Subs: (2) Sony Xplod 12"
Front's: (2) Kenwood 3 way 6x8
Rear's: (2) Polk 2 way 6x8
Amps:
(2) Sony Xplod 2150 (1 for each sub)
(1) Sony Xplod XM475GSX (Front and rear)
Special Parts:
Computer customized to playback music.

Comments:
Ahh, The vehicle I bought when the winter was just starting in December 2002. It's a good thing I got something with 4 wheel drive this year as I have needed it many times. this installation took me about 7 days to complete from start to finish. Most of that time was trying to figure out how to mount the screen for the custom computer music player. I am very proud of this installation as it turned out to be the best sounding system I have built to this date for myself. Below is the intro screen that comes up on my custom computer music player.
These are a few pictures of when I first bought the vehicle. This Ford radio had a small stock amplifier in the back trunk area.
This shows the trunk area before we made any modifications to it.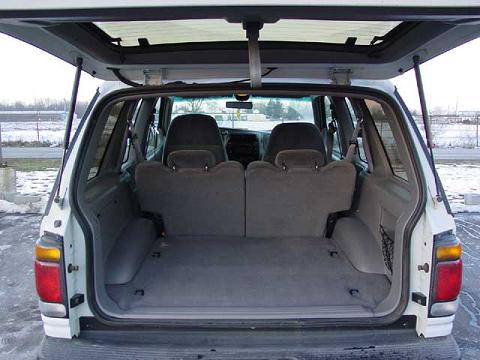 As much as possible, I wanted to keep the truck looking stock....At least from when you look at it from a distance. I knew it was going to be a challenge to keep it looking stock on the inside.